on with the dance! let joy be unconfined; no sleep till morn, when Youth and Pleasure meet to chase the glowing hours with flying feet.

Lord Byron
it was my first victorian ball.
the muffled sounds of ladies' melodious laughter, stifled squeals, and the rustling of cascading folds of satin skirts mingled about the room, while quiet "pardon me's" from shy gents were whispered occasionally if one "inconveniently" happened to collide with one of the blushing maidens. each surrounding young lady appeared to have another linked with her arm, and the clusters consisting of lace frills and satin ruffles reminded me of chrysanthemums in full bloom. the anticipated whisper rippled through the crowd, "the dancing is starting!" and soon the gymnasium was transformed into "fairyland" as miss fairfax would describe. a handsome young gentleman, unknown to my acquaintance, extended his gloved palm toward me and as soon as the first notes of music filled the room, a night of reels, quadrilles, waltzes, and polkas had begun.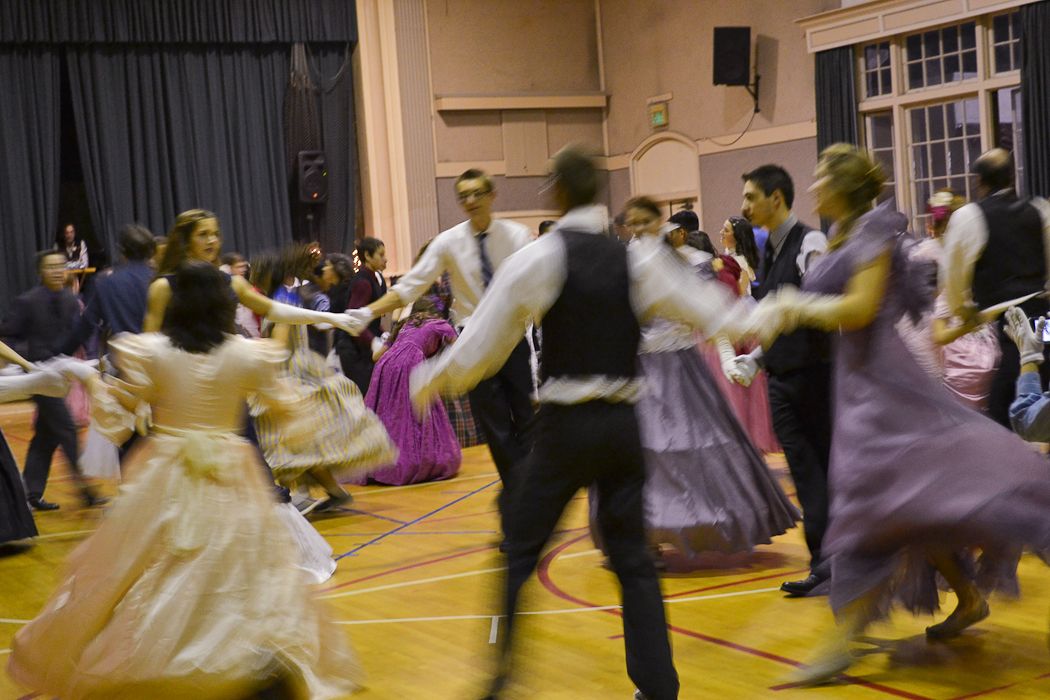 grand march, soldier's joy, gay gordon, virginian reel, waves of tory, spanish waltz, rip and snort, polka
- the evening was filled with much california twirling, promenading, whirling, breathless laughing, and merry-making as we danced atop the late hours on feet that never felt like they touched the ground. the shutters that dared to capture the magic, caught raw moments blurred with movement and faces that were beaming with laughter. 'twas an unforgettable night that will forever be imprinted within my mind.
cloud nine is a beautiful place, dear reader, as long as one is prepared for sore feet the next morn.

wink
lovingly,
the girl dancing

in her garden.
postscript :: my daddy is the best

chaperon one could

ever ask for. ;)